As a mother of 4 kids who are hard on their clothes, I've amassed a huge collection of stained kids clothes over the years. Because I'm legitimately terrible at checking their clothes for stains before throwing them in the wash.
It's especially painful when there's a set-in stain on clothes that are practically new. But I feel trashy letting my kids wear clothes speckled with spaghetti sauce stains and I certainly can't donate them.
So I've been left with the option of either cutting stained kid's clothes up into rags or just chucking them into the trash. Which
A) How many rags does one family need?
And
B) So I just clog to landfills with mostly great clothes?
Both options are less than desirable. And both end up with me having to run to the store and spend more money on clothes for them.
But trying to throw away the two latest victims of my children's neglect—an adorable dress and shirt—made me literally feel ill.
The shirt had been worn only 2 or 3 times before it was wadded up and left outside in the Arizona summer sun where it bleached out parts of the fabric.
(I honestly tried to get my daughter to wear it and insisted it was like tie-dye, but she still refused)
And the little dress with bunny pockets had a series of brown stains from who knows where that I didn't notice til after they'd been washed a couple of times. And by that point, they didn't respond to any stain treatments.
(The stains don't show up well in the picture, but trust me, they're there.)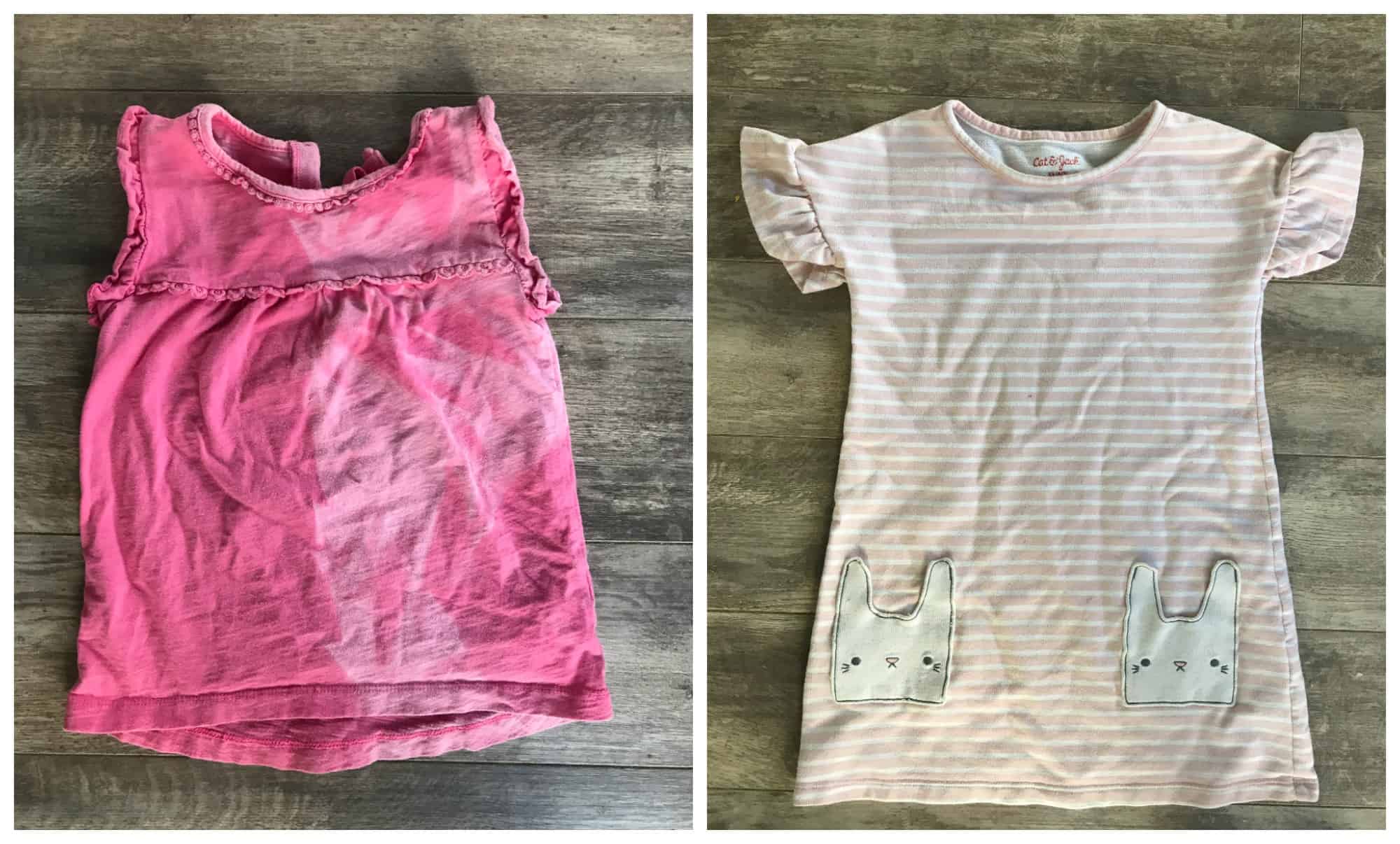 I WANTED TO SAVE MY KID'S STAINED CLOTHES
Cutting up or throwing away either was just too darn painful. So I decided on a better solution: dye them to cover up the stains so my kids can still wear them!
I had done my fair share of dyeing clothes back in the days when my wardrobe consistently mostly of either clothes I sewed or upcycled from the thrift store. And I knew it was actually really easy.
So I grabbed a bottle of black RIT dye at the store and decided to give it a go as my children played on the floor nearby. It was crazy easy. The whole process took about an hour and I was able to easily do other things as the clothes were dyeing. And all I did was follow the directions on the bottle of RIT.
Here's what I did!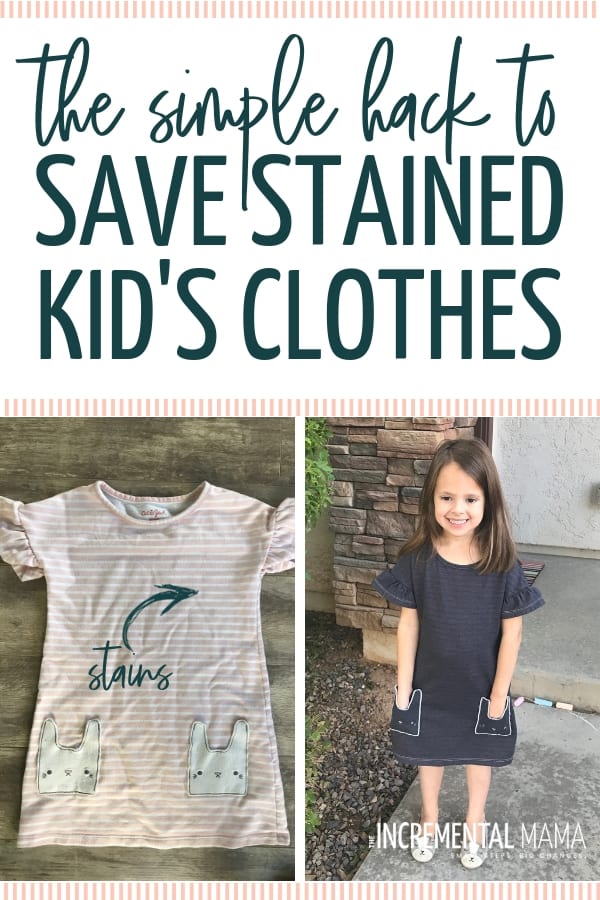 DYEING STAINED KID'S CLOTHES
1) Gather all my supplies
The stained/damaged clothes (washed clean and ready to go)
Bottle of black RIT dye
1 cup salt (for cotton fabrics, however for wool, silk, or nylon fabric, you add vinegar)
A wooden spoon to stir my clothes in the dye bath (but you could use any large mixing utensil)
Recommended: Use rubber gloves. I didn't I had zombie/corpse hands for the next 2 days.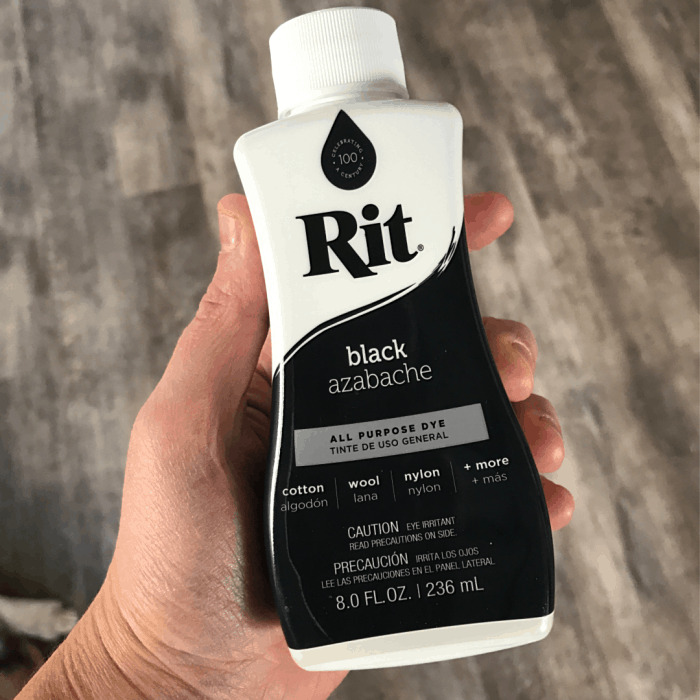 2) Boil water on my stove top
In order to boil enough water, I filled my two biggest pots and brought them to a boil. Since I was dealing with cotton, I wasn't worried about getting too hot. The hotter, the better the dyeing.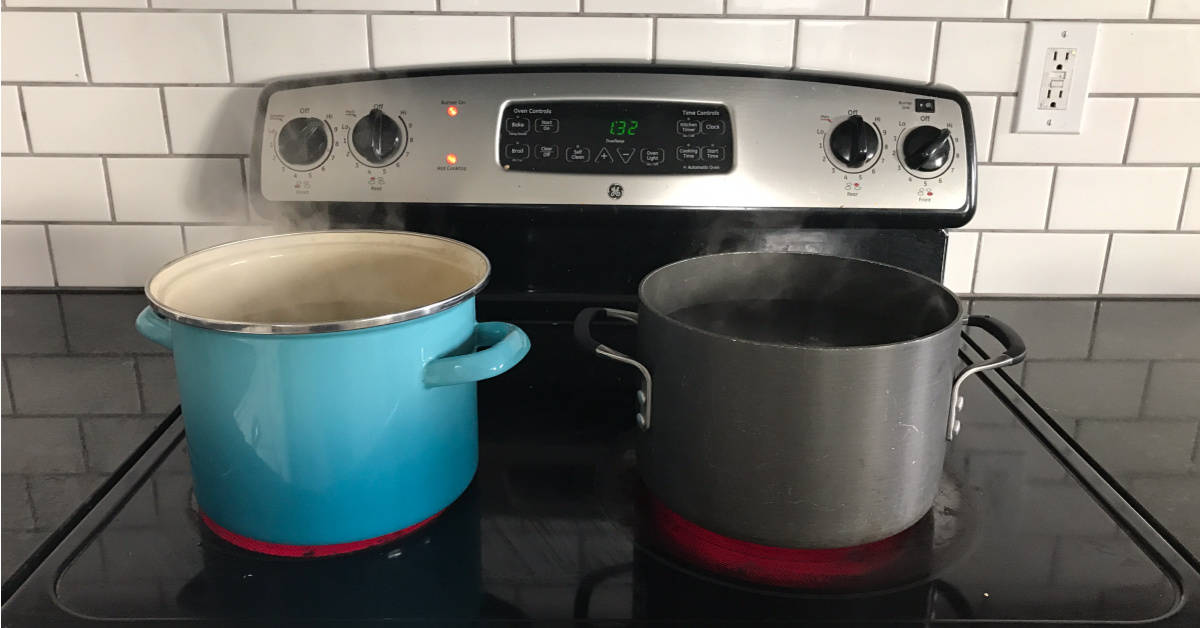 3) Pour boiling water into kitchen sink
While you can use a large bucket, I chose to just do it in my kitchen sink (which is stainless steel). If your sink isn't stainless steel, find a bucket.
4) Add bottle of dye and 1 cup salt to kitchen sink and mix thoroughly
I used a full bottle of the dye because I wanted to get a deeper color and make sure that it covered up the stains/damage fully. I then added the salt and mixed (with the wooden spoon) carefully so as not to splash dye.
5) Add clothes and gently submerge and stir
Using the wooden spoon, I gently mixed in the clothes to my dye bath. As I stirred, I totally felt like Charlie's mom on Willy Wonka and the Chocolate Factory stirring laundry/ I couldn't help, but start singing "Cheer up Charlie."
6) Stir regularly for 30-60 minutes.
Since I wanted to make sure the color stuck, I went the full hour, stirring every few minutes just to make sure the color set evenly. In between, I took care of kids and cleaned my house.
7) Rinse thoroughly until water runs clear
This is where you need the gloves, which I didn't use. Don't be like me and please use gloves. I never use gloves when I should. Like chopping up hot peppers and having my fingers feel like they're on fire (and then rubbing my eyes like a frickin' genuis). So use gloves.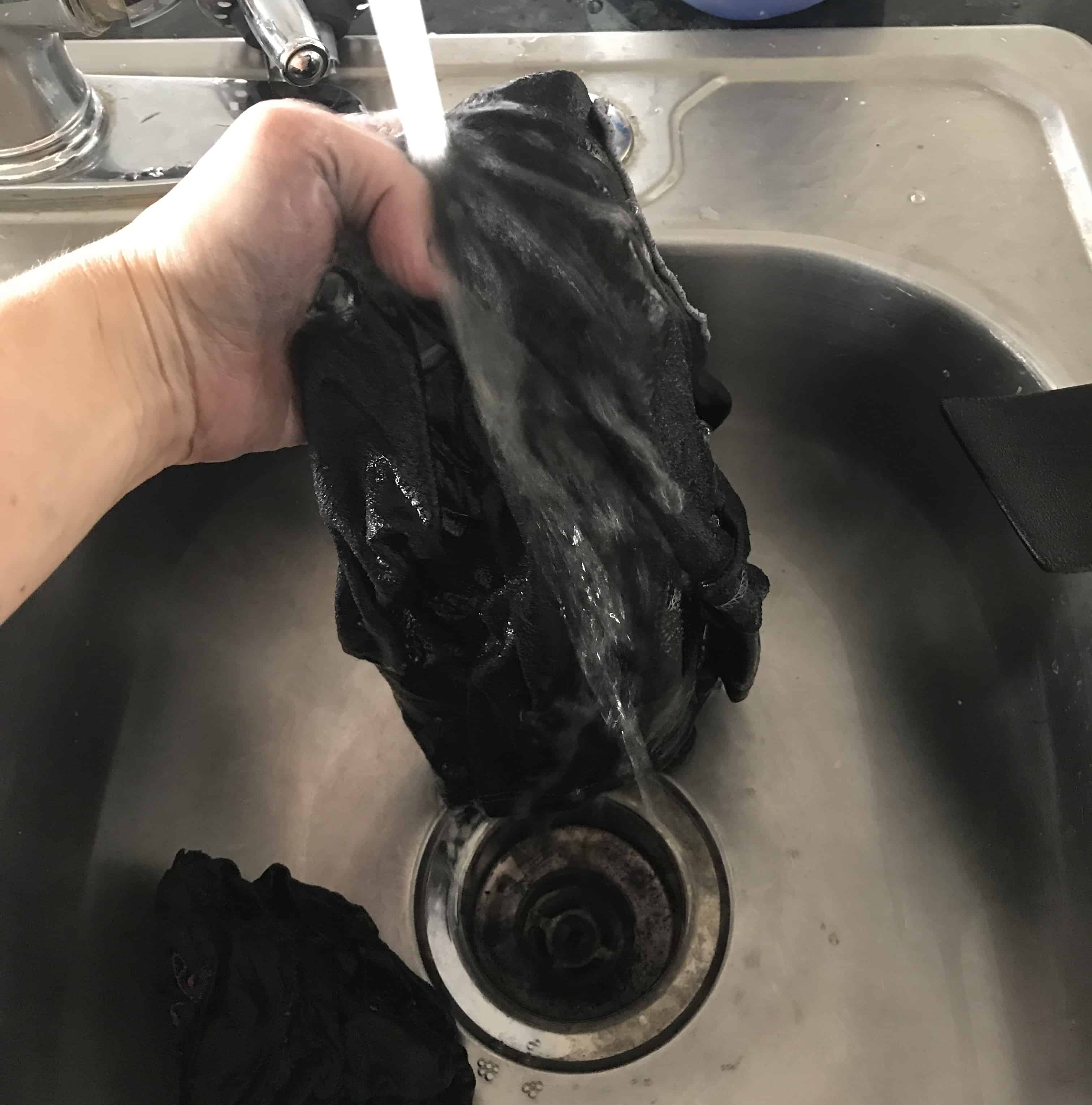 8) Throw in washing machine with an old towel and dry
While the water may run clear, there's still dye that will wash out. So run the clothes through a washing cycle with an old towel to absorb the run-off color.
9) Bask in the glory of saving clothes from the rag bin or the trash can!
How cute did these clothes come out? I was super pleased with the outcome. And so was my daughter!
The shirt looked great and I loved how the dress came out! It came out a little more grey and kept the cute little stripes. And because the thread didn't dye, the bunny pockets really pop. I love it!
*Note: For at least the first wash, make sure sure to wash separately so as to avoid the color bleeding onto other clothes.
DON'T TOSS YOUR KID'S STAINED CLOTHES
So next time you've got some stained kid's clothes, you don't need to trash them. Instead, grab a bottle of RIT dye and give those clothes new life. Dyeing clothes is a super cheap and easy way to save your kid's clothes.
ADDITIONAL RESOURCES: