Having a child with a tongue-tie can be an incredibly frustrating and isolating experience. You know there's something wrong, yet the doctors around you aren't helpful.
And between the breastfeeding issues and the conflicting medical advice, it can be downright painful.
At least it was for me.
And the thing is, it could have been 100% avoided if I'd known more about tongue ties.
Which is why I wanted to share my story of having two kids with tongue-ties (one with a lip tie, as well) in hopes that I could save other parents the pain and frustration that we have experienced.
If you suspect your child has a tongue-tie, here's what you need to know.
What You Need to Know About Tongue-Ties
1) MOST MEDICAL PROFESSIONALS AREN'T TRAINED TO DEAL WITH TONGUE-TIES
Though I had successfully nursed my oldest 2, I suddenly had difficulty nursing my youngest 2 girls.
Despite frequent visits with lactation consultants, nurses, and doctors, no one noticed their tongue ties (or the lip-tie) in the hospital. Or for their first several well-visits.
(which is maddening in hindsight)
Once the pediatrician finally noticed Rosie's (my 3rd child) at her 6 month well visit, we had pushed through the difficulties (and extreme pain) and breastfeeding was going okay. So the doctor didn't seem concerned. She was pretty small, but gaining weight.
Little did I know the problems that would arise.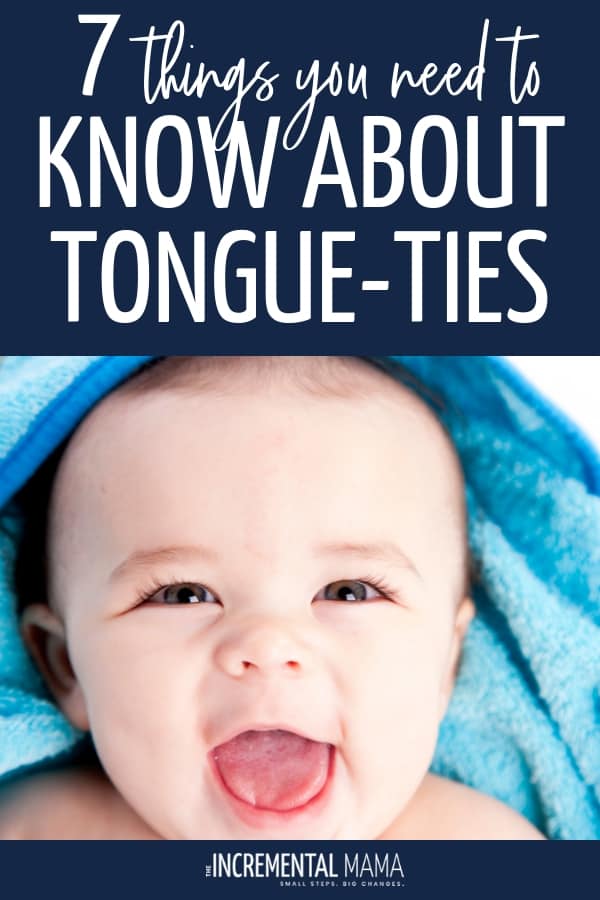 2) IF YOUR CHILD HAS A LIP-TIE, THERE IS PROBABLY ALSO A TONGUE-TIE.
According to specialists, if a child has a lip-tie, it is almost always accompanied by a tongue-tie. It is very rare that a child with have only a lip-tie.
My 4th baby was born with a lip-tie that I noticed when she was a few months old. Again, I had difficulty nursing and again I was told that it was nothing and that lip-ties don't cause issues.
However, once we finally were able to find a specialist who addressed our concerns, we learned about her tongue-tie. Correcting both made immediate positive changes to nursing.
3) PEDIATRICIANS DON'T AGREE ON WHAT TO DO FOR TONGUE-TIES.
For many pediatric needs, there is great consensus among the medical community. Tongue-ties are not one of those things.
All along the road, doctors told us very different things. Some said it was no big deal and didn't affect anything. And everyone had a different idea about how and when it should be treated.
For example, our pediatrician told us everything was just fine. He wasn't concerned one bit.
We visited a pediatric ENT and after a 4 minute visit (and $200 bill), I learned that while the tongue tie was severe this pediatric ENT wouldn't do anything with a baby past 2 weeks old. He said we could revisit when she was two.
Another specialist we consulted would do the procedure up until the child was 9 months old, but by that point my girls were 1 and 2 and both were experiencing issues related to their ties. She said we could revisit when they were 4 or 5.
This was the most maddening thing of all. I just wanted to find someone who could give us the help and answers that we needed.
4) YOU NEED A SPECIALIST WHO CAN HELP YOU
Finding a tongue-tie specialist will make all the difference in the world. Instead of being left with concerns and unanswered questions, you will finally get the answers and solutions you are seeking.
Our fantastic pediatric dentist sent us to the specialist who would give us the help and answers we so desperately needed.
Not only were my girls thoroughly evaluated in order to fully understand the impact of their tongue and lip-ties, but we were able to get the procedures to fix them.
And Rosie was even able to get very specialize speech therapy by a speech language pathologist specializing in tongue-ties and feeding issues.
After having the tongue-ties overlooked or ignored for so long, we finally got answers and solutions with a specialist.
If you are looking for a specialist in your area, here is a list of providers who specialize in tongue-tie and lip-ties.
5) TONGUE-TIES CAN CAUSE A LOT OF PROBLEMS IF LEFT UNTREATED
I didn't realize the full impact of how the tongue-tie affected Rosie until after she was evaluated by a specialist and had the tongue release procedure. Very quickly I saw the swift change that took place in her speech, face, and physique.
BEFORE THE TONGUE-RELEASE:
Her cheeks were sunken and her chin recessed as a result of her inability to use her mouth and muscles properly.
She had enlarged tonsils which cause her to snore and greatly disrupted the quality of her sleep.
Her speech was difficult to understand despite her extensive vocabulary.
She was underweight.
Within two months after the procedure (and weekly speech therapy by a SLP specializing in tongue-ties and feeding issues), she was a different kid.
CHANGES AFTER THE TONGUE-RELEASE:
Her cheeks became full and plump and her chin moved forward as she learned to use her facial muscles properly now that she had full use of her tongue.
Her articulation improved immediately and with speech therapy made huge inroads.
She stopped snoring and waking several times a night, helping everyone get better sleep.
She immediately began to gain weight and by the 6 week mark looked healthy & vibrant.
While I'm so grateful we found solutions, all the issues she had were avoidable. That is what is the most frustrating thing of all. Had we been served properly by the medical professionals we encountered early on, we would have avoided a great deal of anguish and a pile of medical bills.
6) THE POST-PROCEDURE EXERCISES ARE ROUGH, BUT TOTALLY NECESSARY
In order for the tongue to heal properly and not reattach, it must be stretched upward several times a day in the weeks following the procedure. It's painful, but completely necessary.
I'm not gonna sugar-coat this: it's horrible. It's the hardest part of this whole process.
But having a healthy child at the end of the 6 weeks is worth it. And I'm convinced that this is actually harder on the parents!
7) TRUST YOUR GUT
You are with your child nearly 24/7. You know when something is off. Trust yourself. If your pediatrician dismisses your concerns, find the specialist who will listen and answer your questions.
And this goes for everything, not just tongue-ties. I know of concerned moms whose pediatricians kept saying their child is within the norm, only to later get diagnosed with autism.
I also know a mom who was concerned by her teenage son's posture only to be told that it was just slouching and he needed to stand up straight. Turns out it was a serious genetic condition and he missed out on early intervention.
Trust your gut and find someone who will take the time to understand you and your child.
FIND THE SPECIALIST WHO WILL ANSWER YOUR QUESTIONS
Luckily, my story has a happy ending. Through amazing specialists, we found answers and solutions. Both girls are healthy and doing really well. We're delighted by the progress they have both made post-procedure.
Hopefully, our experience can help you learn what you need to know about tongue-ties. Above all, find a tongue-tie specialist in your area who can answer your questions and find solutions for you and your child.
You've got this, mama.