You want more time, less cleaning, healthier meals, and to spend less money. SO meal prep is basically your golden ticket.
But it can get overwhelming trying to figure out how exactly to start prepping meals ahead of time, especially if you haven't done much of it in the past. Well, sit tight and stop worrying because meal prep is EASY and will save you so much time and hasslewhile helping you eat healthier.
WHY MEAL PREP?
Meal prep is amazing:
it saves so much time because you only have one time for chopping and preparing all the food and one time cleaning up the mess.
It's healthier than takeout.
It will save you money. On busy days, you can simply pop something out of the freezer instead of sliding through a drive through. Y
It can be incredibly simple and just take minutes.
Meal prep can be as simple or complicated as you want it to be. Some people will spend hours making dozens of meals at once while others do it on a much smaller scale.
I'm all about maximum efficiency so I like quick and simple. You can prep your lunches for the week and have them in containers in the fridge (these mason jar salads are a personal favorite). Or you can make a dozen lasagnas and have them in the freezer. If you are busy, you don't have time NOT to do meal prep.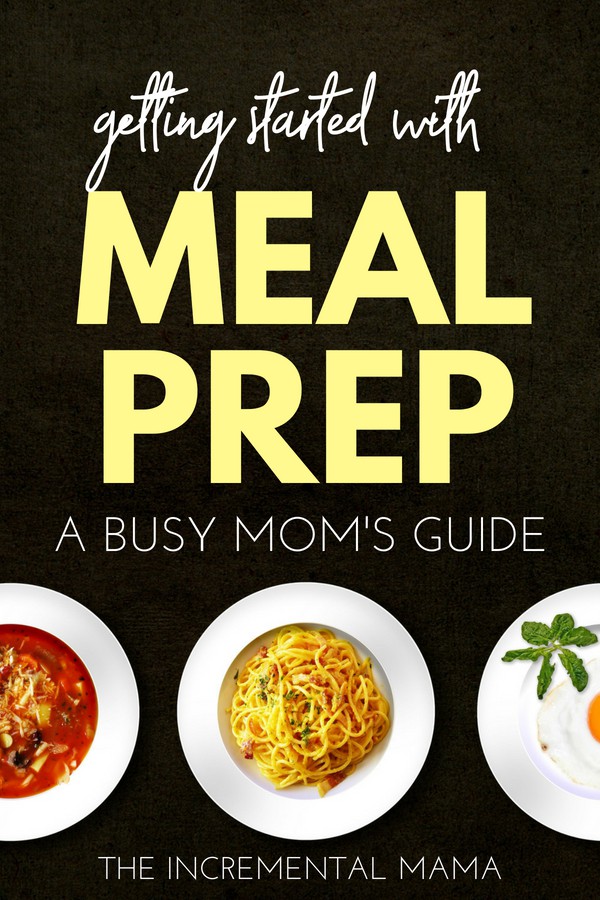 GETTING STARTED WITH MEAL PREP
1) PICK OUT A COUPLE MEALS THAT YOU YOU WANT TO PREP IN ADVANCE.
The sky is the limit with which meals you can start with, but it's best to start with meals you already make and you know your family likes.
If you are at a loss, 2 super easy places to start are spaghetti sauce and marinated chicken breasts in quart bags to go in the freezer (these marinades are amazing–I have made them all). Both are easy and you you can make a ton without too much effort.
Here are some amazing (and super easy) make-ahead breakfast recipes that my family lives on.
2) PICK OUT A DAY OF THE WEEK TO DO YOUR MEAL PREP
Depending on what you want to do, it's good to pick a day when you can block out a couple hours for meal prep and clean up.
3) MAKE LIST OF THE INGREDIENTS YOU NEED & DO THE SHOPPING
This is crucial. There is nothing worse than settling in for a nice meal prep session and realizing that you are 1 or 2 items short.
Take the recipes that you want to make and decide how many meals you are looking to have on hand. If you want to a 5 meals, make sure you multiply all your ingredients by 5.
Only buy as much as you need (to eliminate food waste).
4) BE SURE YOU HAVE THE APPROPRIATE CONTAINERS
You'll pick your containers depending on what you are trying to do.
If I'm prepping lunches to go in the fridge, I love these glass containers. They store well, and you can heat them right up in the microwave without worrying about BPA and all that nasty stuff. .
Freezer bags are perfect for spaghetti sauce and chicken in marinades.
These little guys are amazing for helping fill the freezer bags without awkward spills.
I use these aluminum foil dishes for lasagna and enchiladas and I used to use these smaller foil dishes with lids when our family was smaller. Make sure you label everything–preferably before you fill it with food.
5) PREP YOUR MEAL
It's magic time! Stick on some great music, a podcast, or whatever strikes your fancy and follow your recipes.
For food safety, be sure to let everything cool before going in the fridge or freezer.
6) PUT MEALS IN FREEZER
If using quart freezer bags for sauces, soups, or chicken, be sure to lay them flat when you put them in the freezer. Otherwise, they can get stuck to things as they freeze and it's super annoying. If you have the space, don't stack them until after they're frozen.
When making something in individual pieces (like muffins or meatballs), you can flash freeze them on cookies sheets. When you put them in gallon freezer bags, they won't stick together.
7) CLEAN UP
I try to clean up as I go along. The great beauty of meal prep is that you have just one clean up session for all the meals you make. This is probably my favorite aspect of meal prep!
AND NOW, CELEBRATE BECAUSE YOU ARE ON TOP OF IT MAMA!
There is something so satisfying about seeing a bunch of meals on your counter or in your freezer. With just a little planning and prepartaion, you can save time, money, and clean up by getting started with meal prep.
Good luck!