*This post is brought to you by Basic Invite. All opinions are entirely my own.*
When I was a kid, I loved to run down the street to the huge community mailbox and get my family's mail.
It not only made me feel important, but it was thrilling to sift through the contents of my parent's mail.  I was always hoping that a letter would arrive from my pen pal in the the faraway land of Santa Barbara.
And when December mail arrived–with all it's Christmas cards, family newsletters, and festive red envelopes with swirly cursive script–I was beyond excited.
Because in my 10 year-old mind, Christmas mail was my mail.
Despite not knowing who half the people were sending my parents Christmas cards and family pictures, I would rush home, tear open the envelopes and rummage through the contents.
I studied the family photos of distant relatives and my dad's business associates and religiously read every single family newsletter.
(Yeah, I was a weird kid.)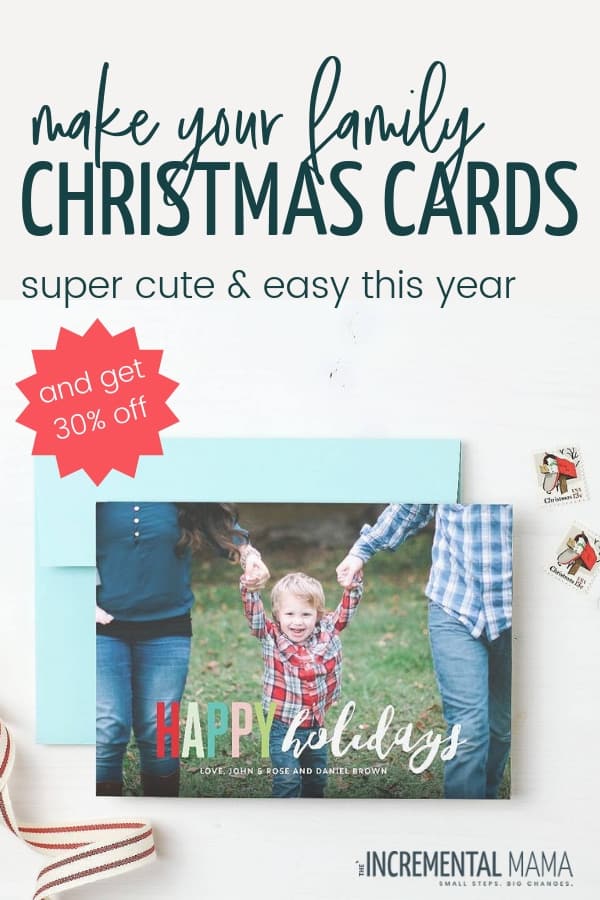 Which is why I was so excited to send out a Christmas card and newsletter when I finally had a little family of my own. (There was a 10-year-old somewhere who would be simply delighted by our exploits and awkward smiles.)
And you know what I discovered?
Getting out Christmas cards is HARD WORK.
In between keeping kids alive (and probably working a job), you've got to:
Take a family picture where everyone looks at least semi-normal (a nearly impossible task in this house).
Find a Christmas card template that looks good with the colors of said picture (lots of scrolling and checking multiple websites).
Gather up addresses for everybody
Order a massive amount of Christmas cards (without knowing exactly how they'll turn out printed)
Stay up all night addressing envelopes and binge watching Netflix
It's hard to create Christmas cards that you can be proud of. Especially when you've got a million other things to do.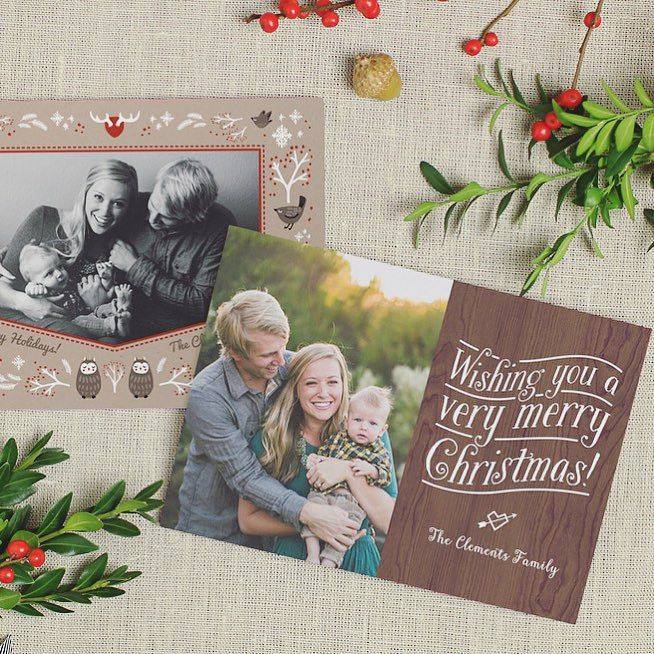 BASIC INVITE MAKES IT EASY
But you know what? Basic Invite makes it super easy to create Christmas cards that perfectly match your photo and personal style.
And it's one of the few websites that you can easily order one printed sample of the actual card (or invitation–they do everything) so you can see exactly how it will look as well as feel the paper quality.
All before you lay down the cash for 50 or 100 cards.
And they even offer an address capturing service that allows you to simply share a link on Facebook, Twitter, Instagram, or wherever to request your friends and family's addresses.
They'll then print out all the addresses you select on the envelopes. At no cost.
That alone saves hours and a massive hand cramp (been there!).
But you know what? I haven't even gotten to what gets me super excited about Basic Invite: the custom color options. 
THE BEST PART: YOU CAN GET THE COLORS EXACTLY HOW YOU WANT THEM
You can pick any of the  holiday photo cards template and change the colors to be exactly what you want.
Once you select a design, you can change the color of each element on the card to over 180 different color options. You can make sure the card is exactly how you want it.
Down to the littlest detail.
No endless searching for the perfect color combinations on a card template. No more worrying about having the colors match your photo. You can make it exactly how you want it to be.
And you can order a sample to ensure it'll look fabulous.
Oh, and the envelopes? The ones they'll print all the addresses on for free?
You've got over 40 different colors of envelopes to choose from, making it stand out before it's even opened.
(And all of the envelopes are peel and seal so super quick and no licking.)
And believe it or not, it gets even better: Right now Basic Invite is offering 30% off with coupon code: holi30
CREATE YOUR CHRISTMAS CARDS WITH BASIC INVITE
So do yourself a favor and make creating Christmas cards easy this year with Basic Invite.
They make it easy to create gorgeous Christmas cards (or invitations) that are the exact colors you want. And they make it simple to gather addresses and get them printed on the envelopes.
Whether you need family Christmas cards (or even corporate Christmas cards), head on over to Basic Invite and check out their selection of over 500 Christmas card and holiday card designs. Don't forget to claim your 30% off with coupon code: holi30.